I was on a mission to create a healthy and delicious alternative for breakfast, and also find a way to use up ripened bananas. I am trying to eliminate dairy from my diet and I needed to find a way to replace my morning Greek yogurt ritual with something that would suffice.
I was selective in the ingredients I chose when creating the recipe. Quick tips, as an alternative to canola oil, I used unsweetened applesauce; Instead of white flour, I used whole wheat flour; And, instead of using white sugar, I used honey.
Enough with the small talk, let's get to business and find out what's exactly in these delicious muffins.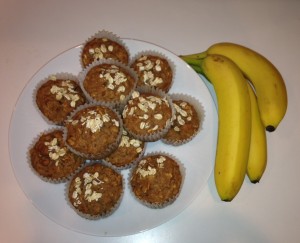 Dry ingredients:
1 ½ cup whole wheat flour
1 cup oats
1 tsp baking powder
¾ tsp baking soda
½ cup chopped walnuts
Wet Ingredients:
2 ripe bananas
1 egg
1/3 cup honey
1 tsp vanilla
½ cup almond milk
1/3 cup unsweetened applesauce
Kitchen tools needed for recipe: Three mixing bowls, hand mixer, muffin pan, muffin liners
Recipe yields 12-14 muffins
First, mash up both of the ripe bananas in a small mixing bowl. In the second mixing bowl, add all of the wet ingredients and use a hand mixer to assure the egg is evenly beaten. Once all the wet ingredients are combined, add the mashed bananas to the wet mixture. In the third mixing bowl, add all of your dry ingredients and stir to evenly mix.
Then, add the wet mixture to the dry mix and use a spatula to fold until all ingredients are combined.
Line your muffin pan with the liners and spray each one with nonstick cooking spray.
Using an ice cream scooper, distribute one scoop of batter into each of the muffin liners. Before placing into the oven, sprinkle each muffin with some oats.
Bake in a 350° for 25 minutes.
These are perfect for breakfast or even a hearty snack on the go. Enjoy!